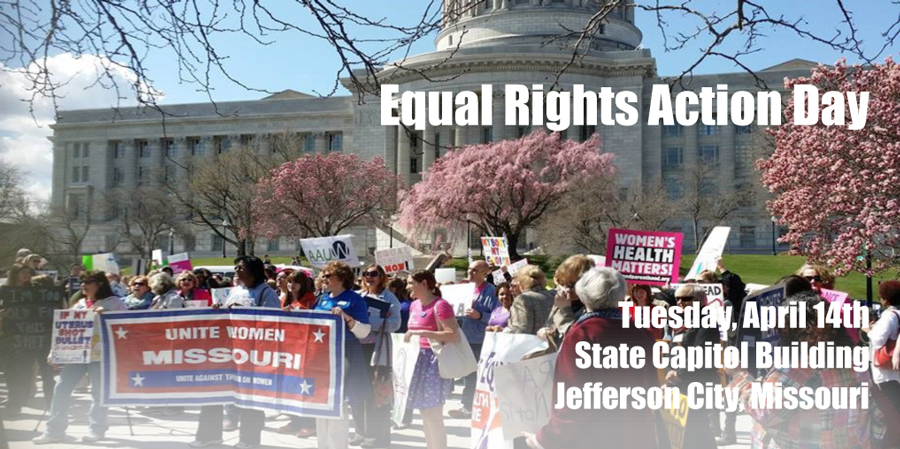 After a morning of meetings, inspiring speakers and marching, we set about as citizens' lobbyists to visit with legislators. We distributed copies of AAUW's booklet, The Simple Truth, while requesting their support to close the gender pay gap. To our surprise, we learned of the convening Senate committee hearing. We attended and witnessed bill SB 144 Equal Pay Legislation pass out of committee. The bill will next move to the floor of the Senate for debate.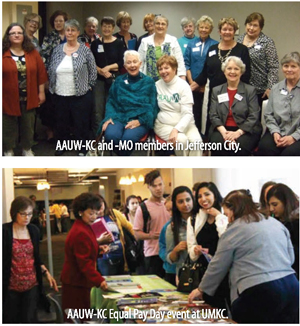 SB 144 requires the Department of Labor and Industrial Relations to establish guidelines relating to gender pay equality. Once this bill becomes law, we women's advocates will push for an amendment stipulating penalties to be applied to employers in violation.
Equal Pay Legislation is on the move in Missouri! What more fitting close to an exciting, productive day at the Capitol in Jefferson City, Missouri.
While our AAUW sisters were in Jefferson City, Patti Jackowicz and Winnie Weinrich went to UMKC to help set up for an Equal Pay Day event on campus in the Miller Nichols Library. Each of the four participating sponsors met with students and explained their connection and commitment to fighting the gender pay gap. Of the 139 students who visited our booth, 110 of them signed up to receive more information about AAUW and the free student membership. We have since followed up with these new young contacts and look forward to them joining us soon!