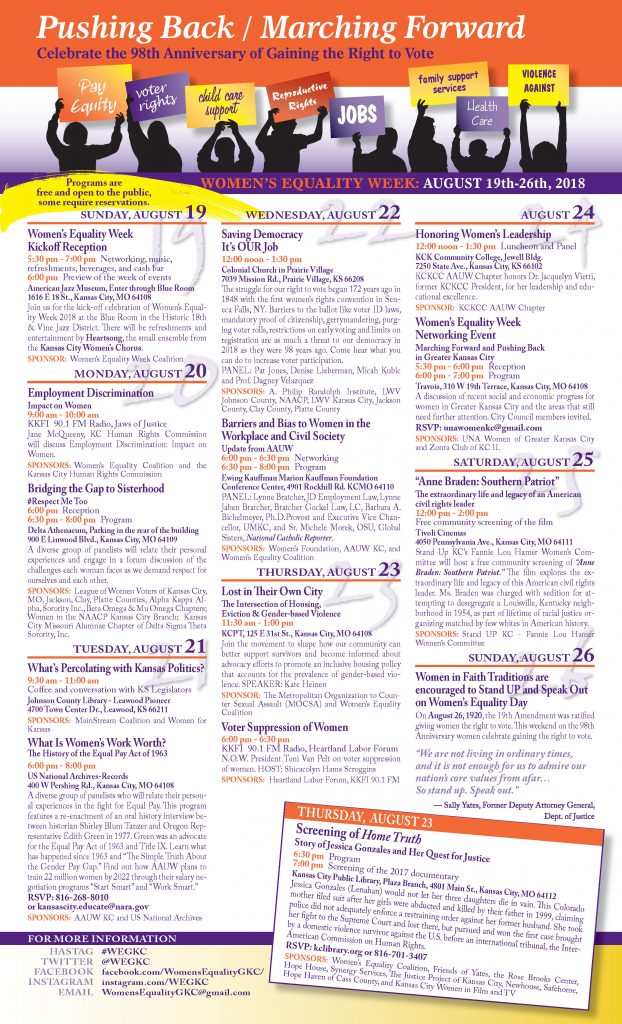 WEW AAUW-KC Co-Sponsored Events:
Tuesday, Aug. 21,

6 pm Reception, 6:30 pm Program
What is Woman's Work Worth?
The History of the Equal Pay Act of 1963
US National Archives-Records, 400 W Pershing Rd, Kansas City, MO 64108
AAUW KC and the national archives hosts a presentation on Pay Equity with a diverse group of panelists who will relate their personal experiences in the fight for equal pay.
The program will include a re-enactment of an oral history interview between historian Shirley Blum Tanzer and Oregon Representative Edith Green in 1977.  Green represented Oregon in the U.S. House of Representatives from 1955-1974 and was an advocate for the Equal Pay act of 1963 and Title IX.
Learn what has happened since 1963 and "The Simple Truth About the Gender Pay Gap."  Find out how AAUW plans to train 22 million women by 2022 through their salary negotiation programs "Start Smart" and "Work Smart."
Reservations are requested for this free program, RSVP to 816-268-8010 or kansascity.educate@nara.gov.
Wednesday, Aug. 22, 6–8 pm
Barriers and Bias to Women in Leadership
Ewing Marion Kauffman Foundation, 4801 Rockhill Rd, Kansas City, MO 64110
PANEL: A diverse panel of women will provide personal insight into overcoming challenges they have faced in the labor force and reaction to the AAUW Research study: "Barriers and Bias the Status of Women in Leadership"
Sponsors: U.S. Department of Labor, Women's Bureau, AAUW-KC and Women's Foundation