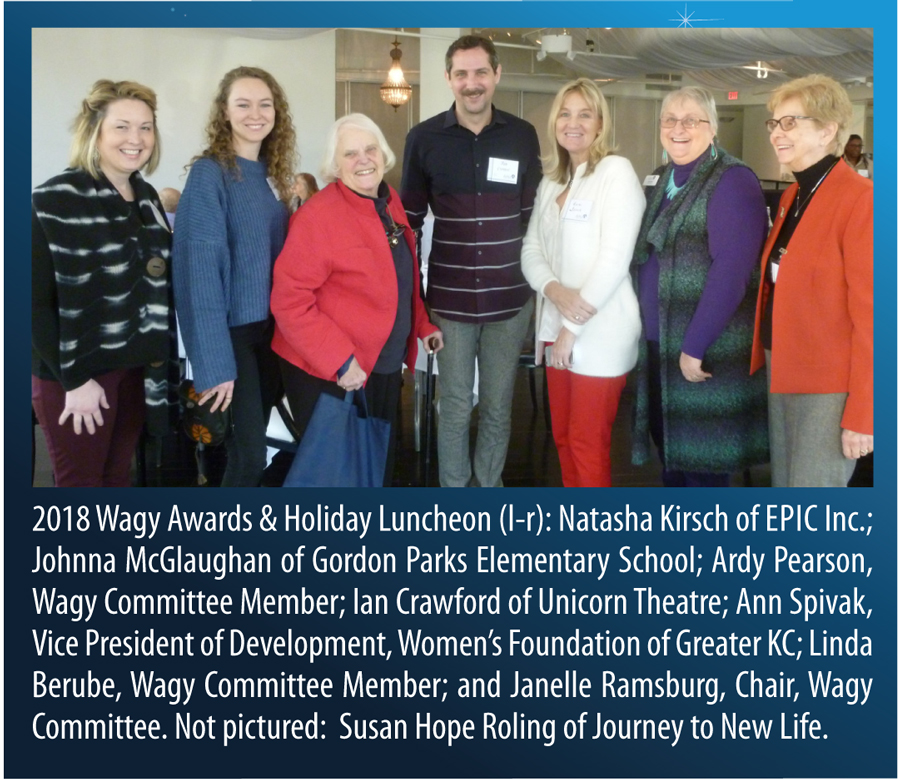 Each year the Kansas City Branch of AAUW, through its Nettie Irene Van Der Veer Wagy fund, awards grants to local social service and cultural organizations for projects that support AAUW's mission. In 2018, 28 organizations submitted letters of interest. All were interesting and worthy of support. The following were awarded grants at the 2018 Wagy Awards & Holiday Luncheon on December 8.
• Epic Inc.-The Grooming Project seeks to stabilize the lives of single mothers  by combining vocational training (pet grooming) with comprehensive support services such as parenting and budgeting.
• Gordon Parks Elementary School – For Girls on The Run for At-Risk Girls teaches life skills, such as teamwork, perseverance and hard work while training to run a 5k marathon. This grant purchases running shoes for girls in the third and fourth grade.
• Journey to New Life provides a path to success for women after incarceration. Funding goes to Journey House, a transitional housing facility for women after incarceration, for personal hygiene, education and medical and dental expenses.
• Women's Foundation of Greater Kansas City – Improvement of Work Force Development for Women through Salary Negotiation Training – Using AAUW-developed curriculum "Work Smart", the program helps women navigate the complexities of negotiating benefit packages, promotions, etc.
• Unicorn Theatre illuminates social issues through stories that include race, religion and gender identity. This years play, "The Wolves", is a story of growth and girlhood.
These grants are provided through earnings from the Wagy Fund and donations. If you would like to make a donation for next year's awards, please make your check payable to AAUW Wagy Fund/Amer01 and mail to: GKCCF (Greater Kansas City Community Foundation), Attn: LaVon Colhour, Manager of Corporate Services, 1055 Broadway Blvd., Suite 130, Kansas City, MO 64105.