This year, as in years past, the Kansas City Branch will take part in Equal Pay Day activities with the Department of Labor Women's Bureau and UMKC Career Services,  sponsored by the UMKC Women's Center.  The Miller Nichols Learning Center lobby is reserved for Tuesday, March 31, 11am.–1pm. AAUW-KC will share an Information Table in the lobby with representatives from the Department of Labor Women's Bureau and Career Services and will provide information on the gender pay gap. Stephanie Holthaus invites interested branch members to join her in disseminating brochures and engaging students about this hugely important issue. Contact: stephanieholthaus2@gmail.com

Dr. Brenda Bethman, Director of the UMKC Women's Center and Arzie Umali, Sr. Assistant Director, received funding to purchase and present AAUW's Start Smart program and they plan to receive training in order to host the Salary Negotiation Workshop to students later this semester.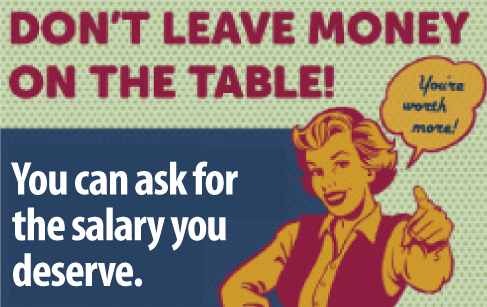 In 2018, AAUW announced our bold pledge to train 10 million women in salary negotiation by 2022. We will not wait for policies and employer culture alone to determine when we reach parity. We are working to empower women nation-wide with skills to effectively negotiate their salary and benefits and become agents of change in their communities.
Attend our free, online salary negotiation workshop or attend a workshop in your community, bring AAUW salary negotiation training to your community, or share our programs and become and advocate for equal pay.