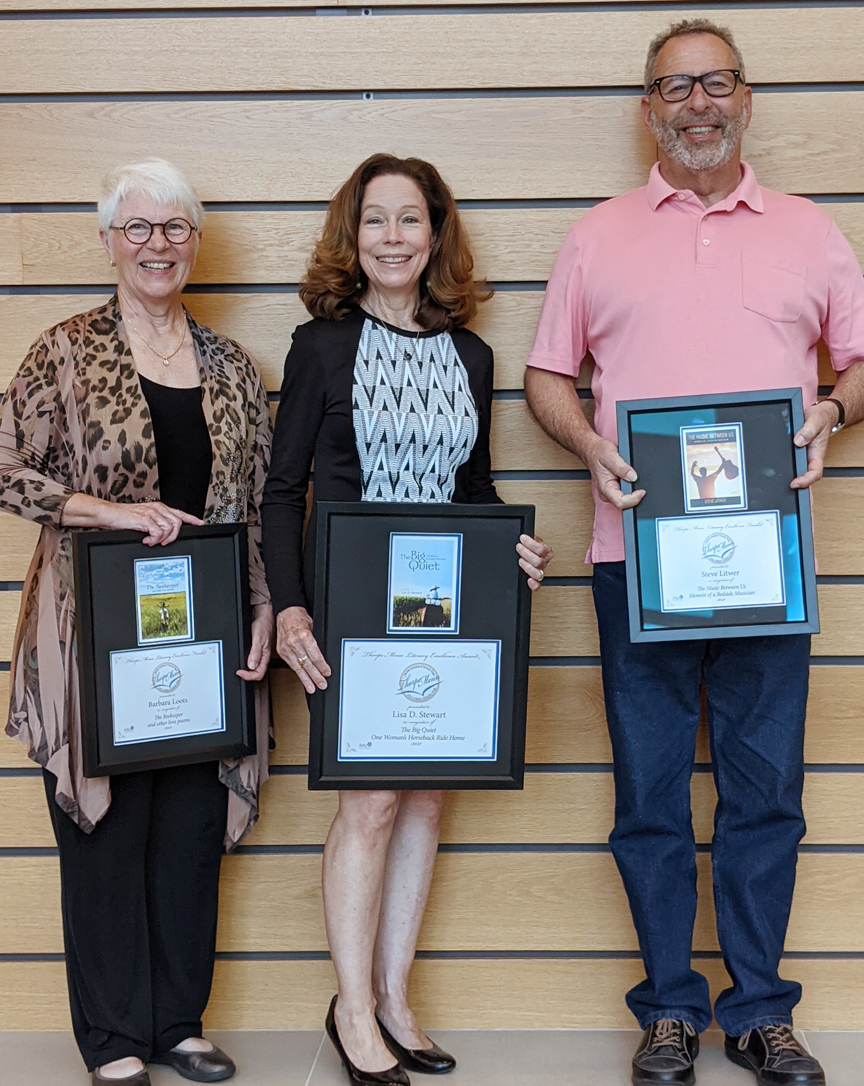 Lisa D. Stewart (pictured, center) was awarded the 2021 Thorpe Menn Award on October 9, for her memoir The Big Quiet: One Women's Horseback Ride Home at the award luncheon held in the Community Hall at the Midwest Genealogy Center, a Mid-Continent Library, in Independence. She was presented with $300 and a framed certificate.
Of note, Lisa's husband Robert Stewart won the Thorpe Menn Award in 2004 for his book Outside Language: Essays.
Steve Liwer was first runner-up (pictured, right) for his book, The Music Between Us: Memoir of a Bedside Musician, and Barbara Loots (pictured, left) was second runner-up for her book of poetry, The Beekeeper and Other Love Poems. Both were presented with $100 and a framed certificate.
Andrea Warren, the 2020 winner for her young reader book, Enemy Child: The Story of Norman Mineta, a Boy Imprisoned in a Japanese American Internment Camp During World War II was our keynote speaker. She recounted her journey as an author writing nine books for young readers.
Over 50 guests were welcomed by Steven V. Potter, Director of Libraries, Mid-Continent Library, who surprised the committee by offering to hold the 2022 luncheon at the new center at Woodneath Library.
Click here for the list of 2021 Thorpe Menn Literary Excellence Award Nominees.