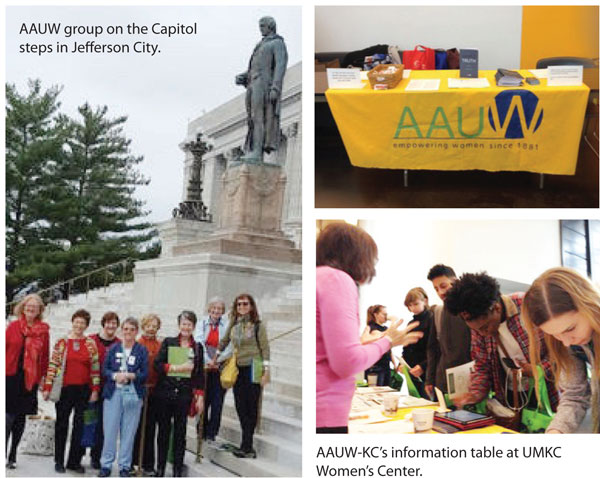 Busy, busy, busy, aptly describes April 4 (Equal Pay Day) for many AAUW members! Public Policy Committee Co-Chair Carol Cowles organized a bus load of members from AAUW-Kansas City and -Independence, as well as members of the League of Women Voters and serveral other interested activists to travel to the Capitol in Jefferson City for Equity Action Day, organized by the Missouri Women's Network. They joined over a hundred women (and a few men) from St. Louis, Columbia and throughout the state to dialogue with, learn from, and lobby legislators. Topics included pay equity, reproductive justice, human trafficking, and the victims' employment safety and security act. In addition to members of AAUW and LWV, those in attendance included members of Planned Parenthood, National Council of Jewish Women, National Organization of Women, Vision 2020, and Coalition of Labor Union Women.
Following an introduction to Issues of the Day, the group lobbied their senators and representatives. During lunch, legislative briefings by Sen. Lauren Arthur, Sen. Gina Walsh, Sen. Scott Sifton, and Rep. Jean Evans provided opportunities for questions and answers. An afternoon lobbying session and meeting with State Auditor Nicole Galloway concluded the day. 
Meanwhile, in Kansas City, Public Policy Co-Chair Riva Capellari and College/University Partnership Chair Patti Jachowicz joined the UMKC Women's Center, UMKC Career Services and Department of Labor Women's Bureau to present information on the gender pay gap to UMKC students. Students received an equal pay button (=$) for their participation. Also, female students were given a large cookie and men a small cookie, with the opportunity to earn more cookies by answering questions about gender pay equity.
In addition to handing out AAUW's Spring 2017 national report, The Simple Truth About The Gender Pay Gap, AAUW gave out PayDay candy bars. A total of 68 students took part. AAUW-KC signed up 33 enthusiastic new student members including quite a few men! In coordination with the event, the UMKC Bloch School of Business presented a workshop on salary negotiation. Riva and Patti enjoyed many rich and fulfilling conversations with the students who attended.

As the daily political news hits, remember that a personal AAUW response is only a "click" away. A"Two-Minute Activist" tab on the national AAUW website (www.aauw.org) is an easy and efficient way to stay in constant contact with your Senators and Representatives.