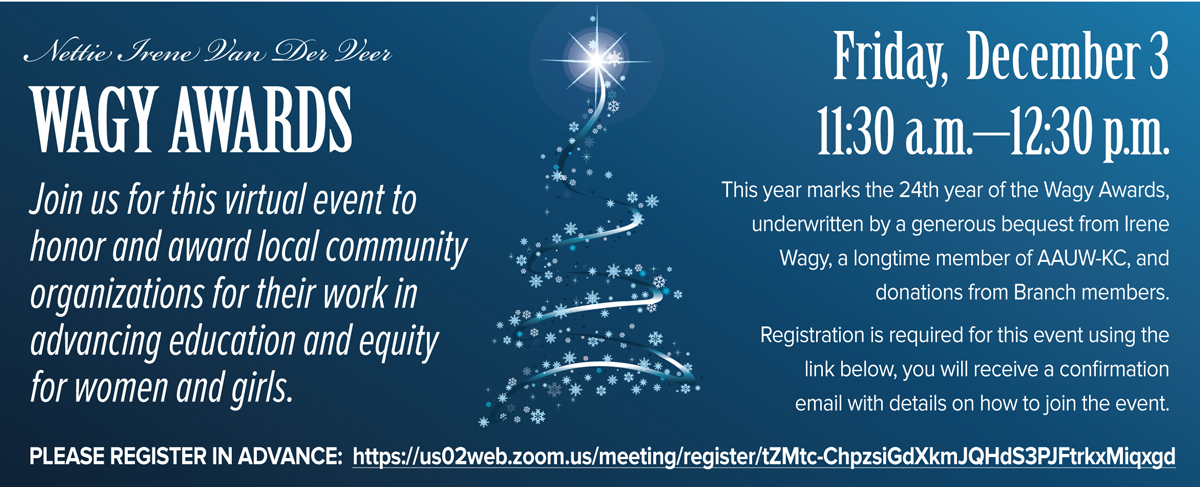 AAUW-KC has awarded several grants to local community organizations for projects that support our mission of promoting equity, education, intellectual growth, individual worth, and development of opportunities for women and girls.
These grants are made possible from a generous bequest from the estate of Irene Wagy, a member of the Branch who passed away in 1996, plus donations from Branch members. Since 1997, we have awarded 99 grants totaling $244,435. Grants range from $1,000 to $4,000.
Those of you who have attended the December awards event where local community organization awardees tell us about their organization and projects, understand how much good these grants do. 
In addition to asking for general contributions in support of these awards, we accept donations made in honor of Branch leaders who have recently passed away. We call this the Leadership Memorial Fund.
To donate to the Wagy fund, please make checks payable to: AAUW Wagy Fund/Amer01 and mail to:
Greater Kansas City Community Foundation
Attn: Kelli Doyle
1055 Broadway, Suite 130
Kansas City, MO 64105
Please note if you want to make your donation in the name of a recently deceased Branch member, write Leadership Memorial in the memo line on your check.
You can also donate online at: https://gkccf.kimbia.com/gkccf with AAUW Wagy Fund/Amer01 as the Fund Name. The GKCCF is a 501©3 nonprofit organization and encourages all donors to consult their tax professionals regarding tax deductions related to charitable contributions.
Thank you for considering this request for funding to support a program that represents what we do at AAUW so well.
Click here register to attend this year's virtual Wagy Awards event on Saturday, December 3 beginning at 11:30 a.m.
2021 Wagy Committee: Ellen Johnson, Chair; Linda Berube; Patty Cahill; Corinne Mahaffey; Dr. Luna Mukherjee; Wanda Perkins; and Joan Shores.