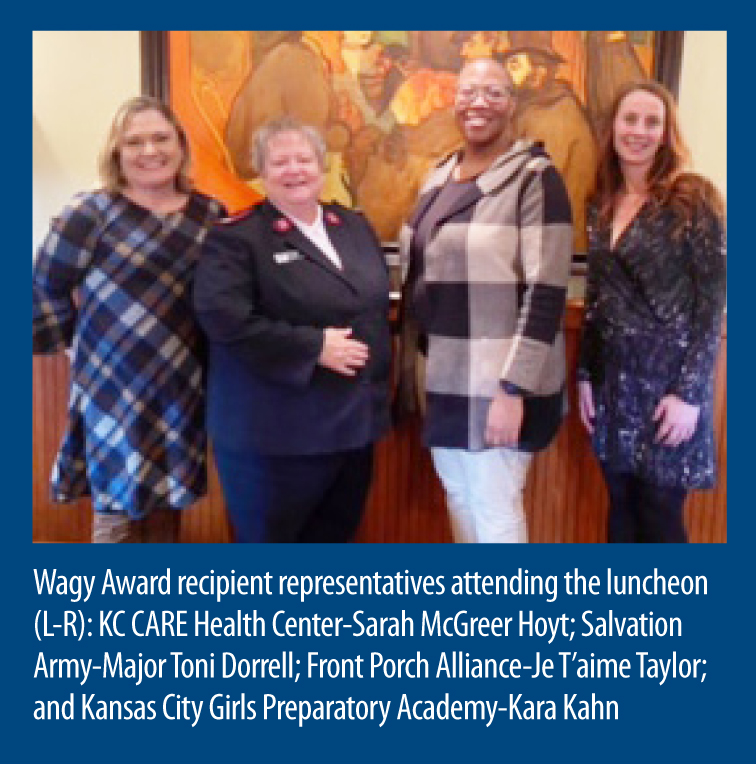 A grand total of $9,240 was awarded to local organizations to help fund their programs that promote equity, education, intellectual growth, individual worth, and development of opportunities for women and girls, at the Wagy Awards & Holiday Luncheon on December 3 at Pierpont's in Union Station.
2022 Wagy Award Recipients:
• Front Porch Alliance received $2,800 for their Beyond Sex Ed Program.
• Kansas City CARE Clinic received $1,800 to fund three patients in their Dentures for Women with Low-Incomes Program.
• Kansas City Girls Preparatory Academy received $1,800 to fund Xello Curriculum for their Changing Lives Through Education Program.
• Salvation Army – Kansas & Western Missouri Division received $1,440 to fund new under garments, socks, and hygiene/beauty products for Gloria's Closet.
• Unicorn Theater received $1,400 to fund performers salaries for the regional premiere production of Marys Seacole.
Please consider making a donation to the Wagy fund! Make checks payable to AAUW Wagy Fund/Amer01 and mail to: Kelli Doyle, Greater Kansas City Community Foundation, 1055 Broadway, Suite 130, KCMO 64105. Or donate online https://gkccf.kimbia.com/gkccf