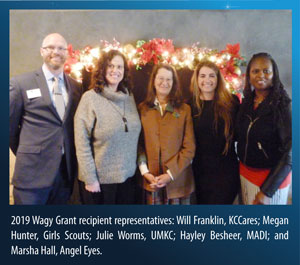 Each year the Kansas City Branch, through its Nettie Irene Van Der Veer Wagy Fund, awards grants to local social service and cultural organizations for projects that support AAUW's mission. In 2019, 20 organizations submitted letters of interest. All were worthy of support. The following received grants at the annual awards and holiday luncheon on December 6:
Angel Eyes – Career Development Program helps single mothers attain higher education. The Wagy grant will be used for the purchase of an Employment Readiness Online Assessment Tool.
Girl Scouts – Camp Fury, a high-adventure career exploration camp with local Fire and Police Departments with the aim of giving girls an immersing experience in public service careers where women are under-represented. Wagy funds will cover two scholarships and supplies for the program.
KC Care Clinic – The grant supports supplies for colonoscopies and endometrial biopsies for 60 low-income and uninsured women with abnormal Pap tests.
MADI – Provides job-training skills and employment assistance in the commercial garment market while producing over 1,000 pairs of undergarments each year that are donated to area shelters. The Wagy grant will purchase commercial sewing machines and a cutting table.
UMKC Foundation – The grant pays for four girls to attend the 2020 Madam President Camp. The Camp teaches girls ages 10–13 leadership, public speaking, negotiation, campaigning, and other skills for effective civic political participation.
All who attended enjoyed a delicious lunch at Café Trio and hearing the stories of the amazing work done by these grant recipients. If you would like to make a donation for next year's Wagy grants, please make your check payable to AAUW Wagy Fund/Amer01, and mail to: GKCCF (Greater Kansas City Community Foundation), Attn: Kelli Doyle, 1055 Broadway Blvd., Suite 130, Kansas City, MO 64105.